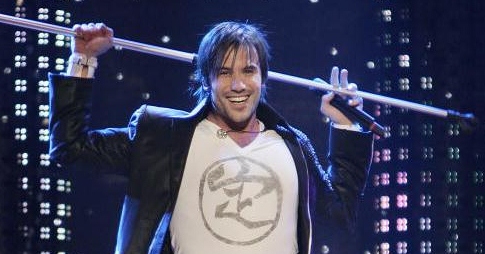 The evening of March 12, 2005 at the Globe Arena in Stockholm, 12 500 fans and half the population of Sweden witnessed the ontinuing rise of a new star burning across the international horizon.
The winner of the Swedish Melody Song Contest, Martin Stenmarck demonstrated that he is an entertainer with an enormous potential. Martin, now with an upcoming new album and an enormous audience as far as in Brazil and The Peoples Republic of China, is now eady for Europe!
From an early age Martin knew exactly where he was going after forming his own rock band. Martin became the recipient of the grand
prize of National Talent Hunt at the age of 18. This was only the beginning of more to come, such as Martin receiving more early recognition from media and colleges than any other artist in Sweden. He received several prominent scholarships including the finest award with recognition to his singing abilities. i.e. Alice Babs Scholarship for singing
Martin's voice is quite unique and has given him fans in every age, including the opportunity to perform in front of the Swedish
Queen. Her Majesty is a big fan of Martin and his music.
Martin is one of the most requested artists in Sweden and his last 8 years has included -3 solo albums, several tours, more than 100
television appearances, broadcasts both in Sweden, Norway, Brazil, and The Peoples Republic of China, performances at The Royal Albert Hall in London and much more.
 As a winner of the Swedish Song Contest Martin now has the great privilege of representing Sweden in the Eurovision Song Contest in
Kiev, Ukraine May 21, 2005.
 Please take a look at the material of Martin Stenmarck attached to this presentation.
 For more  information please contact the representative of Martins Management, Anette Ståhl at email: anette@enmusamusic.com  or visit Martins website at www.martinstenmarck.com